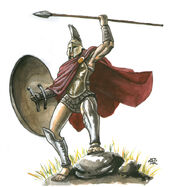 General Darius is a Spartan Soldier and General of the Spartan army. Darius died a great general, and was killed in battle.
Personality
He is a bold,stern,and valiant man. Like any Spartan he does that dying in battle is the greatest glory he can achieve in his life. When the time is for battle, he does not alow himself rest or repreave. He lives his life by spartan law. No mercy,no retreat, no surrender.
Skill and Leadership
He is an incredibly skilled fighter,which is how he earned his rank. He leads his men with no fear fear for death. Although the greatest glory for a spartan is to ide, he knows they should not want to. A Spartan hopes for what they call a beautiful death. Death while serving in the defense of sparta.
Ad blocker interference detected!
Wikia is a free-to-use site that makes money from advertising. We have a modified experience for viewers using ad blockers

Wikia is not accessible if you've made further modifications. Remove the custom ad blocker rule(s) and the page will load as expected.